Telephone : 0086-0371-86151367
Mobile Phone : 008618625531588
Fax : 0086-0371-86151367
E-mail :
hlmachine001@gmail.com
Address : No. 285, Floor 18, Unit 1, Timing Senlin International Building, Cross Of Tianming Rd. And Dongfeng Rd., Jinshui Dist., Zhengzhou, Henan, China (Mainland)
ZB-200I/200II chopping machine
Capcity:

100-140kg(one time)

Power:

62.27kw

Voltage:

Ports:

Size:

2480×2080×1950mm

Payment:
(※ Click this button to inquiry)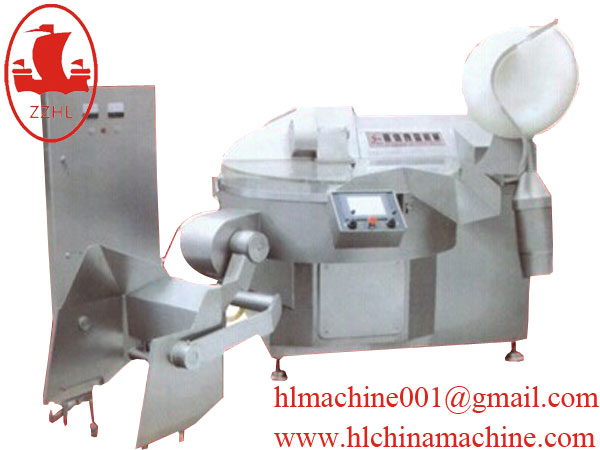 ■ Application and Features
The machine has a knife shaft speed, high power, cutting and emulsifying effect, processing of raw materials wide range of features. Not only can cut and emulsify all
kinds of meat can also be cut and emulsify skin, tendons and other coarse collagen fibers and composite materials. The machine uses an advanced control technology, safe,
reliable, easy maintenance, display control function is complete. Its motor has a starting torque, high insulation levels, overload performance, especially suitable for
frequent start working environment features. This knife chopping machine at any velocity, can play the most powerful driving force, and save you even more power loss, the
aircraft can join in a vacuum CO2 or N2 chopping material by vacuum chopping machine chopping of materials can improve yield, reduce air bubbles, enhance flexibility, and
fully extract protein, so that the material be fully integrated with the accessories and water, emulsifying effect, to ensure optimum product quality. But also for your
supply grid does not have any current impact. Automatic monitoring, reducing the operator's work intensity and improve the monitoring of the accuracy of the product. Work
order software program control execution, greatly reducing the failure rate of the device hardware, making maintenance more convenient.
Main components; (All models matching frequency, man-machine interface control)
1. whole body made of high quality stainless steel, durable, easy to clean.
2. temperature, time, number of revolutions can be displayed and set. Can control the optimum chopping time.
3. spindle rotation type Ⅰ 200/1800/3600 rev / min; Ⅱ type of conversion eight governor.
4. chopper chopped the pot with a gap of 1.0 ~ 1.5mm, ensuring chopping effect.
5. key components imported components, such as chopping knives, bearings, drives, programmable controllers, touch screen, electrical components.
Ⅱ type frequency control, which can save energy 30%.
◇ electrical box split installation, sealing, use waterproof electrical appliances.
◇ key parts machining center to ensure accuracy. Appearance of special treatment technology, beautiful appearance.
◇ machine cleverly designed, with good dynamic balance, low noise, small vibration
◇ Emerson or made in China, Hai Lipu converter (Danfoss). User selectable.
◇ Switzerland SKT front and rear bearings.
◇ man-machine interface display operation. (User selectable)
◇ Adopt Chinese high-end hydraulic system. (Sino-German joint technical)
① The machine is widely used in meat, vegetables, nuts, seafood and spices.
② turn pot for casting stainless steel, and a spill-proof pot along, effectively prevent the infiltration material phenomenon.
③ key parts machining center to ensure accuracy.
④ knives made of imported materials with a special processing technology, but also matching import tool.
⑤ spindle bearings imported dual tandem installation, to ensure a good group of knife shaft concentricity.
■ Specifications
Technical Parameters
| | | |
| --- | --- | --- |
| Model | ZB-220Ⅰ | ZB-220Ⅱ |
| Production capacity | 100-140kg(one time) | 100-140kg(one time) |
| Volume | 200L | 200L |
| Rated Power | 62.27kw | 85.27kw |
| Chopper number | 6the | 6the |
| Chopper speed | 200/1800/3600rpm | 300~4200rpm |
| Chop pan speed | 7.5/10(rpm )Or frequency control | Frequency control of motor speed |
| Discharging disk speed | 82(rpm)Or frequency control | Frequency control of motor speed |
| Vacuum | -80~-85Mpa | -80~-85Mpa |
| Host size | 2480×2080×1950mm | 2480×2080×1950mm |
| Mounting Dimensions | 4500×3500×3500mm | 4500×3500×3500mm |
| Weight | ≈4800kg | ≈5000kg |
Inquiry >>
Please enter your demand such as Raw material type,Capacity, Feeding material size, Final product size. We will reply you as soon as possible.
Please simply complete the form below, we will contact you shortly.