Telephone : 0086-0371-86151367
Mobile Phone : 008618625531588
Fax : 0086-0371-86151367
E-mail :
hlmachine001@gmail.com
Address : No. 285, Floor 18, Unit 1, Timing Senlin International Building, Cross Of Tianming Rd. And Dongfeng Rd., Jinshui Dist., Zhengzhou, Henan, China (Mainland)
Full Automatic Disposable Medical Surgical Mask Making Machine
Capcity:

About 80-100 pieces / min

Power:

Voltage:

220v

Ports:

Ningbo / Qingdao/Shanghai

Size:

6250mm (L) x 4500mm (W) x 1650mm (H)

Payment:

T/T,L/C,Western Union,MoneyGram, other
(※ Click this button to inquiry)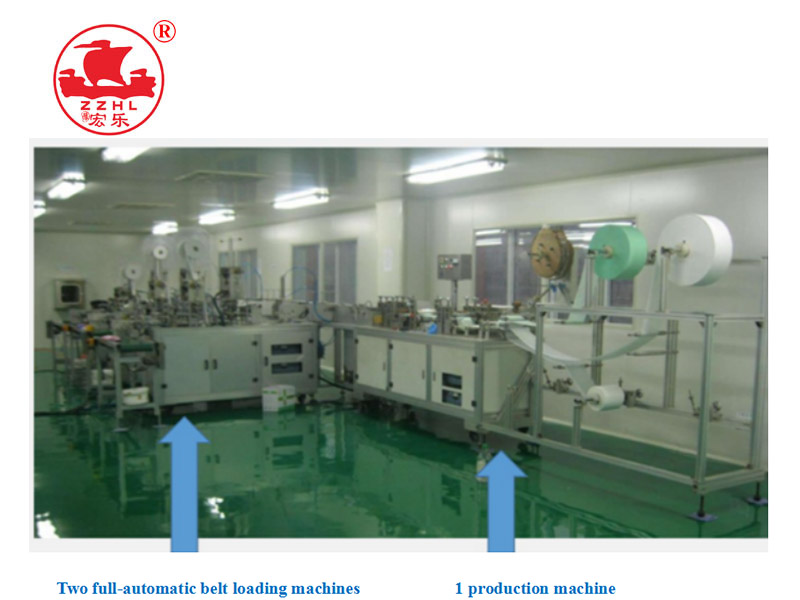 ■ Application and Features
Mask knowledge:
Whether the mask is medical or not has nothing to do with the machine. As long as the mask is sterilized, the mask produced by our machine can be used as surgical mask .Common medical masks: mainly composed of three layers of non-woven fabric. The inner layer is ordinary non-woven fabric, and the outer layer is non-woven fabric with waterproof treatment, which is mainly used to isolate the liquid ejected by patients. The filter layer in the middle is polypropylene melt blown non-woven fabric with electret treatment. After the final production, it shall be sterilized by ethylene oxide and kept for 7 days for volatilization toxicity, and then transported by sealed packaging.The full-automatic wiring combination machine is to connect one mask body manufacturing machine with two mask ear belt welding machines. When the mask body is made, the conveyor belt is sent to the mask ear belt welding machine to weld the ear belt part to complete a complete ear belt mask. Only one operator is required to operate the whole production line.
Technical parameters:
| | |
| --- | --- |
| Model | HLZHW-100 |
| Size | 6250mm (L) x 4500mm (W) x 1650mm (H) |
| Driving mode | Servo motor and Stepping motor |
| Control | Touch screenand button |
| Electric control mode | PLC program control |
| Energy consumption | single-phase 220V, 50 / 60Hz |
| Air pressure | 0.5-0.6mpa |
| Applicable process: | Double, three and four layer medical and ordinary masks |
| Product specification | Standard Type: 175 x 95mm; special type: 180 x 95mm, 145 x 90mm, 125 x 90mm |
| Production capacity | About 80-100 pieces / min |
| Qualified rate | More than 99% |
| Weight | 800 kg |
Inquiry >>
Please enter your demand such as Raw material type,Capacity, Feeding material size, Final product size. We will reply you as soon as possible.
Please simply complete the form below, we will contact you shortly.