Telephone : 0086-0371-86151367
Mobile Phone : 008618625531588
Fax : 0086-0371-86151367
E-mail :
hlmachine001@gmail.com
Address : No. 285, Floor 18, Unit 1, Timing Senlin International Building, Cross Of Tianming Rd. And Dongfeng Rd., Jinshui Dist., Zhengzhou, Henan, China (Mainland)
Hand Desinfection sanitizer waterbottle filling packaging machine liquid soap filling machines
Capcity:

About 2400 bottles / h

Power:

2kw

Voltage:

380v

Ports:

Ningbo / Qingdao/Shanghai

Size:

9500*2000*2000mm

Payment:

T/T,L/C,Western Union,MoneyGram, other
(※ Click this button to inquiry)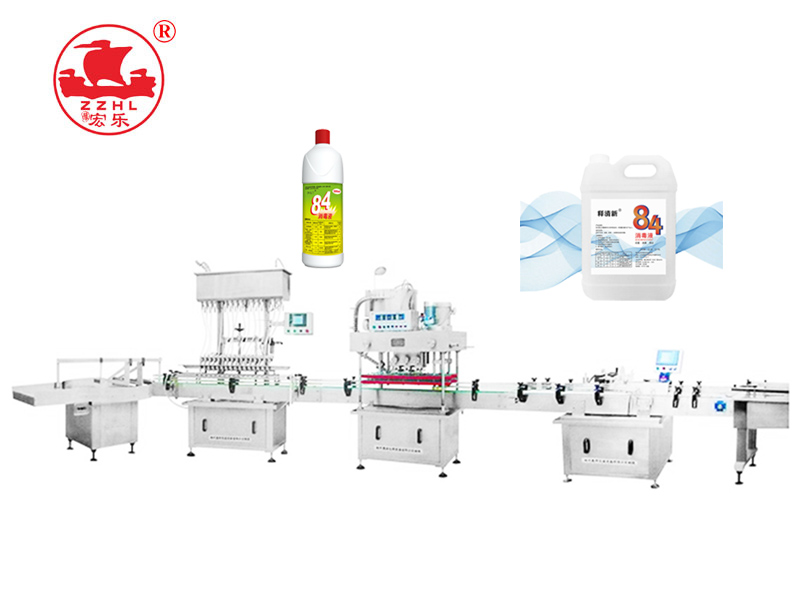 ■ Application and Features
1. J Rotary Type Automatic Unscrambler
Technical Features:
This machine adopts frequency control for rotary motion, the bottle in the rotary tangential force in order to enter the conveyor belt, supporting and packaging production lines, save labor, improve efficiency, applicable range of 50-1000ml container glass bottles, plastic bottles, plastic bottle, etc..The main parts of this machine are made of high quality stainless steel and meet the requirements of GMP.
2. L16 Automatic Liquid Filling Packing Machine
Parameters
| | |
| --- | --- |
| Model | L16 platform type filling machine |
| Filling Head | 16 pics (8 pics, 12 pics customizable) |
| Filling Speed | 4000-7000 bottles/h |
| Filling Capacity | 40-1000ml |
| Measurement Accuracy | ±1% |
| Pressure | 6-7kg/cm³ |
| Gas Consumption | 0.5m³/t |
| Voltage | 220V |
| Power | 800W |
| Weight | 400kg |
| Size | 6000*900*1900mm |
| FOQ | |
Technical Features:
L type inline filling machine is a new and high technology filling equipment which consists of micro computer (PLC), programmable control, photoelectric sensing and pneumatic execution. Widely used in fruit juice, soy sauce, vinegar, mineral water, pesticides, chemicals, detergents, oral liquid, disinfectant, lubricating oil and cosmetics and other liquid filling. Filling accurate metering, no bubbles, no drip. The utility model is suitable for filling various 40-1000ml bottles (including special-shaped bottles).
Advanced Technology:
1. the machine is suitable for filling different specifications of containers, and can change the filling specifications in a few minutes.
2. short filling cycle and high production capacity.
3. replace filling specifications, no need to add equipment, just need to make adjustments to complete.
4. users can choose the number of filling according to their own production capacity, determine the number of filling head.
5. touch operation screen, can display the status of production, operating procedures, filling etc..
6. Each filling head is provided with a bottle mouth device to ensure accurate feeding.
Unique Filling Method:
1. the design of linear selection, grouping, bottle, bottle way, so that the expansion of filling function, all kinds of containers, can be effectively filling in this equipment.
2. the use of international advanced gas filling valve, to ensure the filling process without dripping, no drooping.
3. powerful PLC software support, ideal filling operation can be realized.
4. friendly man-machine interface, so the operation was completed in the touch screen.
Accurate Metering Control:
1. Filling adopts fixed flow channel parameters, control filling time, realize different measurement filling.
2. Pneumatic valve filling accurate time can be set to 0.01 wonderful, can make the measurement accuracy in the range of + 1% error, reduce unnecessary material loss, improve user economic benefits.
3. Each filling head measurement can be adjusted separately, in order to achieve consistent filling measurement.
4. The machine has set a bottle count program, no bottle, count is not in place, not filling, and only when the counter records the number of bottles and set the number of bottles in conformity with the beginning of filling.
5. The amount of filling, you can start the transfer to the required amount of filling, and then fine-tuning, you can get ideal filling metering accuracy.
3. XG High Speed Belt Capping Machine
Parameters:
| | |
| --- | --- |
| Fit Bottleneck Dia | Φ35mm-φ96mm |
| Fit Cap Dia | Φ20mm-φ65mm |
| Throughput | ≤5500 bottles/h |
| Voltage | 220V |
| Power | 2000W |
| Weight | 550kg |
| Size | 2400*960*2100mm |
| FOQ | |
Technical Features:
This machine is based on the experience of domestic and foreign rotary capping machines, and is designed for the diversity of rotary cover.
Major Advantages:
When the bottle and the cover are changed, the parts need not be replaced, as long as the device is adjusted, the rotary cover has high passing rate, high speed and convenient operation and maintenance. The capping wheel from the engagement device, thus ensuring cap in place, but not too tight, the cap; additional two sets of bottle clamping ring mechanism, unstable bottle or bottle also applies high. The device is equipped with aluminum foil removal device, the cover without aluminum foil is automatically removed before the lower cover, to ensure the cover rate of aluminum foil is 100%. The main parts of this machine are made of high quality stainless steel and meet the requirements of GMP.
4. TB-YP Vertical Type Round Bottle Labeling Machine
Parameters:
| | |
| --- | --- |
| Labeling Speed | 100-250 bottles/min |
| Labeling Precision | ±1mm |
| Circular Bottle Diameter | φ20mm—φ100mm |
| Labeling Height | φ20mm—φ140mm |
| Labeling Lenght | ≤340mm |
| External Dia of Paper Roll | ≤φ300mm |
| Inside Dia of Paper Roll | ≥ φ76mm |
| Valtage | 220V |
| Power | 200W |
| Size | 2000*1050*1300mm |
Technical Features:
Vertical labeling machine adopts advanced rolling on labeling, using computer control fiber, synchronous tracking, a bid by the stepper motor or servo motor control, automatic detection and automatic container and label size, location and other advanced features, to ensure accurate labeling, automatic synchronization.
The host adopts microcomputer mode control, touch type large LCD panel, display and storage of ten sets of memory devices, is a modern advanced mechanical and electrical equipment. When the single machine is in use, the optional delivery (receiving) material tray can also be directly connected with the production line, and the utility model has excellent and reliable working performance. It can also be equipped with printer to print labels synchronously.
Self-adhesive labeling machine is easy to clean, not moldy, after labeling beautiful, firm, will not fall off their own, high production efficiency. This series of models is made of 304 stainless steel and advanced aluminum alloy treated by anodic treatment. It conforms to GMP standard. It is suitable for automatic labeling of containers in medicine, daily chemicals, food and other industries.
Inquiry >>
Please enter your demand such as Raw material type,Capacity, Feeding material size, Final product size. We will reply you as soon as possible.
Please simply complete the form below, we will contact you shortly.