Telephone : 0086-0371-86151367
Mobile Phone : 008618625531588
Fax : 0086-0371-86151367
E-mail :
hlmachine001@gmail.com
Address : No. 285, Floor 18, Unit 1, Timing Senlin International Building, Cross Of Tianming Rd. And Dongfeng Rd., Jinshui Dist., Zhengzhou, Henan, China (Mainland)
Paste dumpling Processing Machine
Samosa Making Machine
Capcity:

7200

Power:

3.0kw

Voltage:

220V

Ports:

Qing Dao

Size:

1050x600x1200mm

Payment:

T/T Western Union L/C
(※ Click this button to inquiry)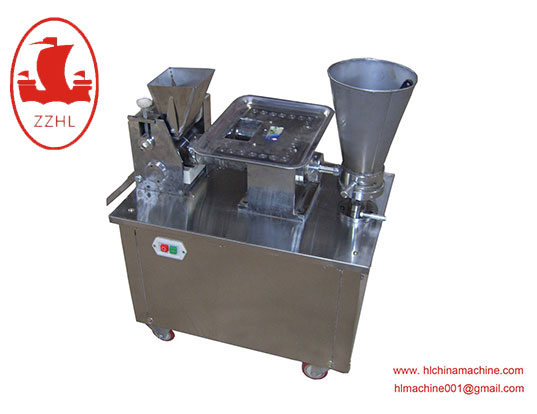 ■ Application and Features
Detailed Description of Samosa Making Machine:

Product Description:

This machine is new model products of our company. All main spare parts are made of the stainless steel.
Both the thickness of the wrapper of the dumpling and the volume of filling of dumplings can be adjusted.
It also can fry dumplings, egg roll, samosa, wonton, mini dumpling and other foods by changing different forming part.

Advantages of this machine:

1. Suitable to make common dumplings, chaffy dish dumplings, fried dumpling etc.
The thinness of wrapper and the quantity of stuffing can be adjusted freely.
3. This machine can make high quality dumplings, which is with very thin wrapper and plenty of stuffing. The dumpling is not easy to be broken when you braise or boil it. It is good-looking and tastes very good, just like the dumpling your dear mom made herself.
4. Only one operator is needed, even the non-experienced worker can run it.
5. Stainless steel is used to make the machine with perfect design. It is good-looking as well as healthful. 6. It is small size, easy to remove and wash the machine.
7. Suitable for various processes: dumplings made out can be steamed, boiled, decocted and fried, the most important is they also can be rapidly frozen and stored for a long time, is the ideal microwave food,8.It has a big capacity.

■ Specifications
Products specification for HY120-5B Samosa Making Machine:
Model
Voltage
Power
Capacity

(pcs / h)

Weight
of the
dumpling(g)

Dimension
(mm)
Packing

dimension
(mm)
Total
weight
Net
Weight
HY-120
220V
3.0kw
7200
16-18
990*470
*1150
1050*600
*1200
190kg
160 kg
HYD-100
220v
2.2kw
6000
14-16
950*500
*950
1000*550
*1050
180kg
150kg
HYD-80
220V
1.5kw
4800
13-16
670*420
*730
805*570
*870
130kg
110kg
Name
dump
ling
dump
ling
dump
ling
dump
ling
Dumpling
(normal)
Fried
dumpling
Wonton
Spring
rolls
samosa

dumpling
Weight
(g/pc)
8-10
10-12
12-14
14~18
15~20
28-35
6-8
50-60
20-30
Dimen
sion
(mm)
45*25
50*28
50*31
60*35
65*35
90*45
40*20
60*32
65*65
*65,
100*80
*80,
100*100
*100,
Inquiry >>
Please enter your demand such as Raw material type,Capacity, Feeding material size, Final product size. We will reply you as soon as possible.
Please simply complete the form below, we will contact you shortly.