Telephone : 0086-0371-86151367
Mobile Phone : 008618625531588
Fax : 0086-0371-86151367
E-mail :
hlmachine001@gmail.com
E-mail :
fancy001@hycfm.cn
Address : No. 285, Floor 18, Unit 1, Timing Senlin International Building, Cross Of Tianming Rd. And Dongfeng Rd., Jinshui Dist., Zhengzhou, Henan, China (Mainland)
QZX250/500/750/1000 Smoked oven
Capcity:

Power:

Voltage:

Ports:

Size:

Payment:
(※ Click this button to inquiry)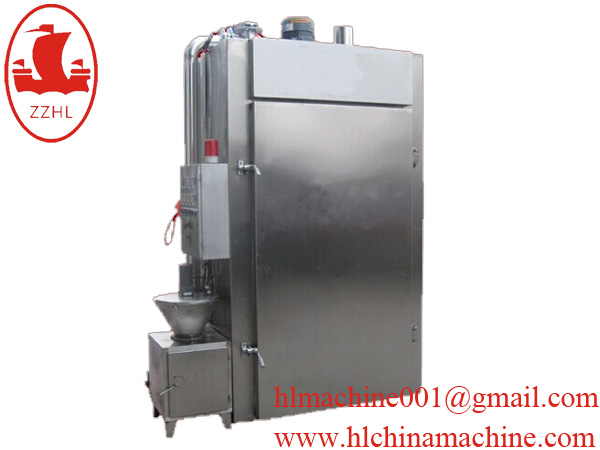 ■ Application and Features
1, the entire computer automatic control program can display temperature, humidity curve, when the optional logger to monitor implementation of the components can be displayed map and the operational status of each process form.
2, import Japan SMC pneumatic pilot valve control steam steam flow, temperature control accurate, reliable operation, the temperature throughout the cabinet temperature is less than 1 ℃.
3, the blades after 3000 rev / min balancing check, the maximum wind speed of up to 25 m / s, effectively ensure that products in the baking process and down, left and right temperature uniformity.
4, the aerosol generating means using wood grain smoke generator, smoke and stability, color fast, and smoke into the box in a clean clean.
5, equipped with high-pressure pipeline pump for cleaning plate and pipe in the dirt, the coil and the flue nozzle fitted with a variety of angles.
According to the requirements of customers before and after the implementation of the smoke box door interlock and can achieve around stations and reach EU exports to Japan and registration requirements.
This equipment has the baking, drying, cooking, cold smoked, hot smoked, cooling and other functions, users can process the products according to different requirements of flexibility in choosing the appropriate technology program, to achieve automatic control, to achieve the purpose of curing and sterilization.
The equipment consists of smoked boxes, automatic program controller, smoke generator, smoke car four parts. A critical component is the steam pipes, heat exchangers and an air circulation system composed of sound channels, the hot air inside the fume and gas mixture circulating in the two groups under the action of the fan, creating a vortex region, the mixed gas with a suitable speed balance smoked by uniformly suspended in the meat box so that curing and sterilization.
■ Specifications
Technical Parameters
| | | | | |
| --- | --- | --- | --- | --- |
| Model | QZX-250Ⅰ | QZX-500Ⅰ | QZX-750Ⅰ | QZX-1000Ⅰ |
| Production capacity | 250kg/stove | 500kg/stove | 750kg/stove | 1000kg/stove |
| Power | 3kw | 6kw | 9kw | 12kw |
| Steam pressure | 0.1~0.2Mpa | 0.1~0.2Mpa | 0.1~0.2Mpa | 0.1~0.2Mpa |
| Furnace | <100℃ | <100℃ | <100℃ | <100℃ |
| Standard trailer | 1000×1030×1980mm | 1000×1030×1980mm | 1000×1030×1980mm | 1000×1030×1980mm |
| Host size | 1350×1510×2600mm | 2420×1510×2600mm | 3360×1510×2600mm | 4765×1510×2600mm |
| Mounting Dimensions | 5000×2200×3400mm | 5000×2200×3400mm | 7000×2200×3400mm | 8000×2200×3400mm |
| Weight | ≈1400 | ≈1800 | ≈2200 | ≈2600 |
Inquiry >>
Please enter your demand such as Raw material type,Capacity, Feeding material size, Final product size. We will reply you as soon as possible.
Please simply complete the form below, we will contact you shortly.