Telephone : 0086-0371-86151367
Mobile Phone : 008618625531588
Fax : 0086-0371-86151367
E-mail :
hlmachine001@gmail.com
E-mail :
fancy001@hycfm.cn
Address : No. 285, Floor 18, Unit 1, Timing Senlin International Building, Cross Of Tianming Rd. And Dongfeng Rd., Jinshui Dist., Zhengzhou, Henan, China (Mainland)
cashew nut shelling machine
Capcity:

Power:

1.5kw

Voltage:

380V 50HZ

Ports:

Qing Dao

Size:

2000*800*1400mm

Payment:

T/T Western Union L/C
(※ Click this button to inquiry)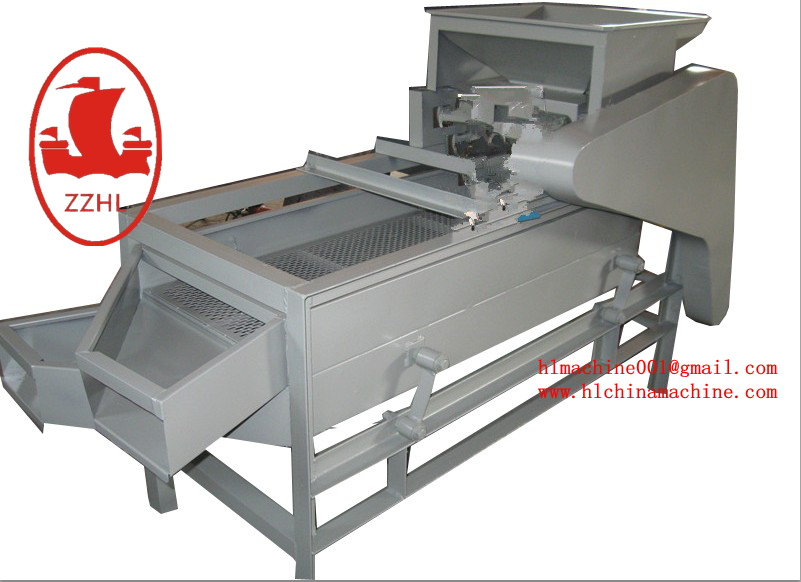 ■ Application and Features
We take use of the virbration principle to design this machine, put the material into the screen body to shake, then the shell and the nuts will be separate through the sieve mesh, the top level leaves the shell, the bottom level leaves the nuts.
■ Specifications
I. cashew nut processing Flowchart
1. Cashew nut Steaming machine --2. Nut shelling machine --3. Kernel dryer --4. Peeling machine --5.roasting machine
II. Machines recommended & Quantity :
1.Cashew nut washing machine
Main technical parameter:
Capacity: 600kg/h
Power: 3kw
size: 2.6*1.2*1.5m
Weight: 600kg
This machine consists of cast hopper, brush roll, the transmission, vibrating screen, drainage, water piping, etc. It is a kind of ideal processing equipment in the cashew line.
Advantages:
wash clean

Breaking rate low

sewage discharge convenient

high output

no environmental pollution
2.Grading machine
Main technical parameter:
Capacity: 400kg/h Power: 3kw
Size: 2.6*1*1.8m Weight: 1000kg
3.Steam cooker
Voltage: 380V
Capacity: 200kg/h
Power: 12kw+12kw
Size: 1540*650*1500mm
Weight: 300kg
4.Sheller
Automatic cashew Sheller
Manual Type: model hyg-30
Capacity: 1500-2000 granule/h
SIZE: 0.4X0.5x1.3m
| | | | | | | | |
| --- | --- | --- | --- | --- | --- | --- | --- |
| model | capacity | Size | the ;shell ;rate | the ;whole ;kernel ;rate | motor ;power | voltage | frequency |
| HYG-20 | 17--20kg/h | 0.6*0.8*1.7m | 95% | 90% | 0.75kw | 220v/380v | 50hz |
| HYG-50 | 35--50kg/h | 1.2*1.6*1.7m | 95% | 90% | 1.1kw | 220v/380v | 50hz |
Manual cashew Sheller:
Manual and motorized two sub-machine, artificial feeding, according to the width of cashew nuts to peel after 3-5 minutes. Production, open the shell rate. The whole kernel of skilled workers, the rate and degree of operation.
5. Peeling machine
Capacity: 120kg/h
Size: 0.8*0.8*1.6m
Weight: 300kg
6.Roasting machine
Temperature: constant temperature 300 ℃
Frequency: 220V/50Hz
Capacity: 100~150kg/h (can be custom by your demand)
Power: 2.2kw
Dimension: 2.8*1.2*1.6m
Description of the machine:
This machine is of advanced one-piece infrared accelerating burner which consists of the computer controlled pulse igniting system, the flame and temperature monitoring system and the rolling drums. The length of infrared waves released from the burning gas is 2-4 um whose heat reaches the highest infrared radiation value. The ideal infrared wave length is easy to be absorbed by molecules of ordinary substances. The object inside the rolling drum are being simultaneously heated from both sides which avoids the phenomenon that the surface of the objects is burnt while their inside undone. And thus the baking quality, color and flavor are guaranteed. The baking time is greatly shortened and cost is voluminously lowed. The machine having advantages as automatic thermostat control, safety and hygiene and easy operation etc, is an ideal new generation replacing the old traditional generation of baking machines.
This machine is mainly used to roast and dry chestnuts, walnuts, peanut, almond, swallowing beans, coffee beans, melon seeds and other granular material .Using rotating drum, heat conduction, thermal radiation principle, according to customer's requirements designed to use coal gas, diesel, electricity as fuel.
Temperature control: constant temperature—300℃
The main technique parameters:
Temperature: constant temperature 300 ℃
Frequency: 220V/50Hz
Capacity: 100~150kg/h (can be custom by your demand)
Power: 2.2kw
Dimension: 2.8*1.2*1.6m
7. Packing machine
vacuum chamber size:700×610×160mm seal size: 600×8 mm voltage : 380v 50Hz 2.5KW packing capacity:2-4 bags/min
weight : 500kg EXT.DIM.: 1400×750×1030mm
Sunken size:30-260mm( can be ordered according to the customers demands)
Inquiry >>
Please enter your demand such as Raw material type,Capacity, Feeding material size, Final product size. We will reply you as soon as possible.
Please simply complete the form below, we will contact you shortly.