Telephone : 0086-0371-86151367
Mobile Phone : 008618625531588
Fax : 0086-0371-86151367
E-mail :
hlmachine001@gmail.com
E-mail :
fancy001@hycfm.cn
Address : No. 285, Floor 18, Unit 1, Timing Senlin International Building, Cross Of Tianming Rd. And Dongfeng Rd., Jinshui Dist., Zhengzhou, Henan, China (Mainland)
Industrial Peanut Shelling and Separating Machine Line
Capcity:

180kg/hour

Power:

0.75-7.5kw

Voltage:

220v/380v

Ports:

Qing Dao,Ning Bo

Size:

customized

Payment:

T/T,Western Union L/C
(※ Click this button to inquiry)
■ Application and Features
Information of Industrial-Peanut Shelling & Separating Unit
This industrial-peanut shelling & separating unit is an improved peanut processing plant developed by our company. And this peanut shelling line is capable of completing impurity removing, seed dehulling, kernel peeling, shell and kernel separating and re-separating for the peanut in one operation.
Main Operating Equipment of the Industrial-Peanut Shelling & Separating Unit

1. Peanut peeling machine, 2. raw materials elevator, 3. multi-function impurity remover, 4. bucket elevator, 5. shaking screen machine,
6. re-separator (3 sets), 7. cooling(dry) belt

Advamtage of Industrial-Peanut Shelling & Separating Unit

1.This shelling & separating unit can be used for processing peanut as well. And also we have specialized peanut shelling line available.
multifunction impurity remover in peanut shelling line
2.The peanut dehulling machine can remove various kinds of impurities, such as stones, glasses, hairs, etc.
double sheller in peanut shelling and separating unit
3.Special design of peanut shelling machine with conversion technology that helps adjust the working frequency of the sheller according to the operating condition; the sheller has all-steel structure, 99% alumina porcelain blade, which betters the shelling effect and prolongs the service life of the sheller device.
4.The wind-driven back-feeder system return the non-shelled peanut into the sheller for second shelling process, which means a shelling result with high efficiency.
5.sets re-separator working
6.The fish-scale-shaped sieve makes the separation of shell and kernel easy, and by adjusting inclination angle of the sieve, it will get ideal separating result; the sieve is coined with high-quality cold-rolling steel sheets, so it is solid and durable.
7.Screw dis-charger facilities the collection of the peanut shell and reduction of dust.
8.This unit is conducted by a concentrated control cabinet, having simple and visualized operation; the vibration source of the plant is a vibration motor.
9.High automation and easy maintenance.
■ Specifications
Technical Data of Industrial-Peanut Shelling & Separating Unit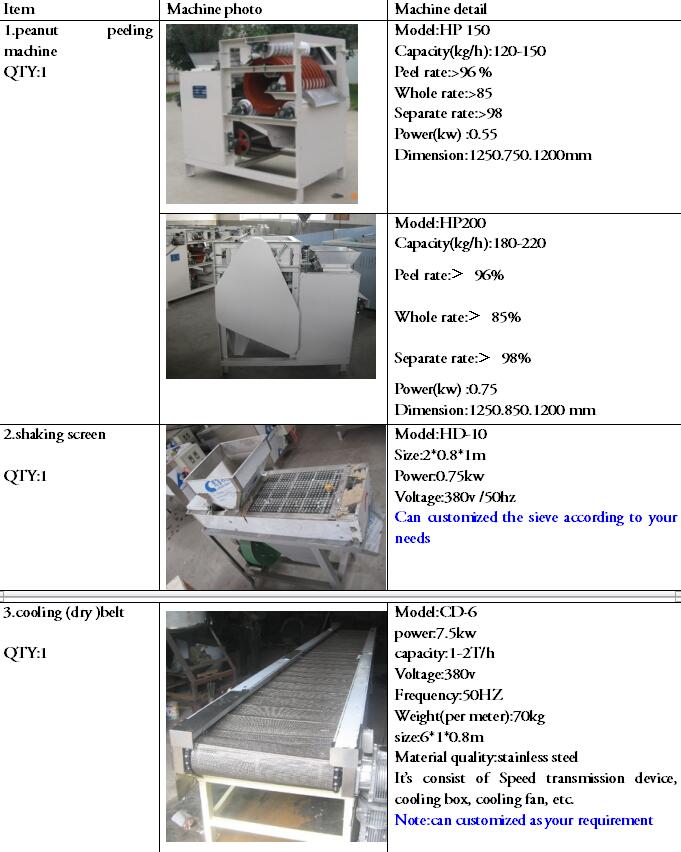 Inquiry >>
Please enter your demand such as Raw material type,Capacity, Feeding material size, Final product size. We will reply you as soon as possible.
Please simply complete the form below, we will contact you shortly.