Telephone : 0086-0371-86151367
Mobile Phone : 008618625531588
Fax : 0086-0371-86151367
E-mail :
hlmachine001@gmail.com
E-mail :
fancy001@hycfm.cn
Address : No. 285, Floor 18, Unit 1, Timing Senlin International Building, Cross Of Tianming Rd. And Dongfeng Rd., Jinshui Dist., Zhengzhou, Henan, China (Mainland)
Muntilpurpose Commercial Sesame Roasting machine
Capcity:

200-300kg/hour

Power:

22.5kw

Voltage:

220v/380v

Ports:

Qing Dao,Ning Bo

Size:

2900x1250x1650mm

Payment:

T/T,Western Union L/C
(※ Click this button to inquiry)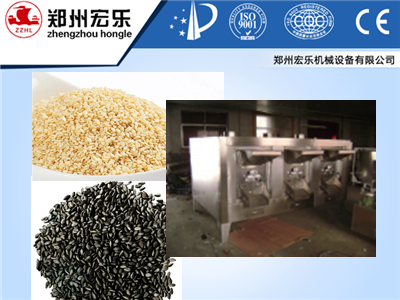 ■ Application and Features
Application of Muntilpurpose Commercial Sesame Roasting machine
Muntilpurpose Commercial Sesame Roasting machine is mainly used to roast and dry chestnuts, walnuts, peanut, almond, swallowing beans, coffee beans, melon seeds and other granular material .Using rotating drum, heat conduction, thermal radiation principle, according to customer's requirements designed to use coal gas, diesel, electricity as fuel.
Features of Sesame Roasting machine
This machine is of advanced one-piece infrared accelerating burner which consists of the computer controlled pulse igniting system, the flame and temperature monitoring system and the rolling drums. The length of infrared waves released from the burning gas is 2-4 um whose heat reaches the highest infrared radiation value. The ideal infrared wave length is easy to be absorbed by molecules of ordinary substances. The object inside the rolling drum are being simultaneously heated from both sides which avoids the phenomenon that the surface of the objects is burnt while their inside undone. And thus the baking quality, color and flavor are guaranteed. The baking time is greatly shortened and cost is voluminously lowed. The machine having advantages as automatic thermostat control, safety and hygiene and easy operation etc, is an ideal new generation replacing the old traditional generation of baking machines.
Advantage of Sesame roaster
1. Sesame roasting machine is made of metal and it is a single-body roaster. It has a simple structure and it is very easy to operate. Nuts processing machine uses the cycloidal reducer as power, and the chains drive the turning cage to roast the materials.
2.Adopt the way of infrared heating to roast the materials by heat radiation from the pipe heaters.
3.The working temperature can be well controlled because this nuts processing machine has a automatic temperature controller.
4.You can choose machine which all made of 304 stainless steel or the sesame roaster whose outer is made of carbon steel and whose inner turning cage is made of 304 stainless steel.
Product Video: youtu.be/grLVVAfMDLI
■ Specifications
Technical Parameter of Muntilpurpose Commercial Sesame Roasting machine
Item

Machine photo

Machine detail

1.roasting machine

QTY:1

You can choose one you want.

Mode:HK-100

Power:22.5kw/380v

transmission power:1.1kw

Size:2900x1250x1650mm

Capacity: 100KG/H

Material quality:stainless steel

Model:HK-200

Size:2100X2900X1600mm

Voltage:220/380v

Power;2.2kw

Capacity:200-300kg/h

Note:can customize the machine according to your needs.

This machine can be used for roasting Sesame, peanuts, beans, coffee beans, melon seeds, nuts etc.
Inquiry >>
Please enter your demand such as Raw material type,Capacity, Feeding material size, Final product size. We will reply you as soon as possible.
Please simply complete the form below, we will contact you shortly.