Telephone : 0086-0371-86151367
Mobile Phone : 008618625531588
Fax : 0086-0371-86151367
E-mail :
hlmachine001@gmail.com
E-mail :
fancy001@hycfm.cn
Address : No. 285, Floor 18, Unit 1, Timing Senlin International Building, Cross Of Tianming Rd. And Dongfeng Rd., Jinshui Dist., Zhengzhou, Henan, China (Mainland)
Hot sale fashionable appearance peanuts nuts roasting machine
Capcity:

25 kg/time

Power:

8 kw

Voltage:

380 v

Ports:

Qing Dao

Size:

1050×700×1100mm

Payment:

T/T Western Union L/C
(※ Click this button to inquiry)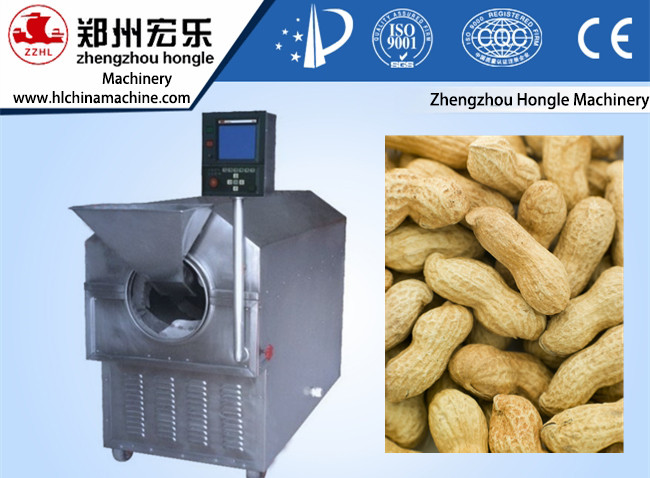 ■ Application and Features
This machine is of advanced one-piece infrared accelerating burner which consists of the computer controlled pulse igniting system the flame and temperature monitoring system and the rolling drums. The length of infrared waves released from the burning gas is 2-4 um whose heat reaches the highest infrared radiation value. The ideal infrared wave length is easy to be absorbed by molecules of ordinary substances. The object inside the rolling drum are being simultaneously heated from both sides which avoids the phenomenon that the surface of the objects is burnt while their inside undone. And thus the baking quality, color and flavor are guaranteed.
The baking time is greatly shortened and cost is voluminously lowed. The machine having advantages as automatic thermostat control, safety and hygiene and easy operation etc, is an ideal new generation replacing the old traditional generation of baking machines. Multi-purpose roasting machine is mainly used to roast and dry chestnuts, walnuts, peanut, almond, swallowing beans, coffee beans, melon seeds , sunflower seed and other granular material .
Using rotating drum, heat conduction, thermal radiation principle, according to customer's requirements designed to use coal gas, diesel, and electricity as fuel.
■ Specifications
Product parameters
| | | | | | |
| --- | --- | --- | --- | --- | --- |
| Model | Capacity | Rated total power | Equipped motor power | Size(mm) | Voltage |
| HYZN-25 | 25 kg/time | 8 kw | 0.55 kw | 1050×700×1100 | 380 v |

ⅰ.working conditions

A. operator: 1 person
B: specified voltage: three-phase 380v
C. environment temperature: 45 ℃ — - 20 ℃
D. work environment: dry, no pollution.

ⅱ. Using method

1. The machine was laid smoothly before using, the grounding wires connected well.
2. Testing process
---Press the power switch
--- The power switch lights, observe whether SV value is greater than PV value (if less than or equal to PV value, the SV value should be adjusted until it is greater than PV value)
---again press down switch, observe whether the machine can work well, this operation has to be repeated many times
--- heating.
3. after the heating knob is adjusted to the minimum, press the heating switches. After heating indicator light lights, turn knob, the display shows NO.1, 2, 3, 4, 5 files (1 file heating power minimum) ,heating test for 3 minutes, observe whether temperature control instrument goes well .
4. This machine can be used after the test shows that each function of the machine is normal.
Note:
A. before using, the grounding wires connected well.
B. in the operating process, the machine must be laid smoothly in case of the damage of the machine because of the vibration.
C. in the operating process mustn't dive into the barrel in case of hurting.
2. Roasting machine
| | | | | |
| --- | --- | --- | --- | --- |
| Commodity | Model | Size (mm) | Power | Capacity |
| Electric roasting machine | HLL-100 | 1400*2900*1600 | 24 kw | 100 kg/h |
| Gas roasting machine | HLL-100 | 1400*2900*1600 | 1.1kw | 100 kg/h |
Inquiry >>
Please enter your demand such as Raw material type,Capacity, Feeding material size, Final product size. We will reply you as soon as possible.
Please simply complete the form below, we will contact you shortly.