Telephone : 0086-0371-86151367
Mobile Phone : 008618625531588
Fax : 0086-0371-86151367
E-mail :
hlmachine001@gmail.com
E-mail :
fancy001@hycfm.cn
Address : No. 285, Floor 18, Unit 1, Timing Senlin International Building, Cross Of Tianming Rd. And Dongfeng Rd., Jinshui Dist., Zhengzhou, Henan, China (Mainland)
Soap Making Machine Laundry Toilet Automatic Soap Molding Machinery
Capcity:

300-2000kg/h

Power:

4kw

Voltage:

220v/380v

Ports:

Ningbo / Qingdao/Shanghai

Size:

depend on capacity

Payment:

T/T,L/C,Western Union,MoneyGram, other
(※ Click this button to inquiry)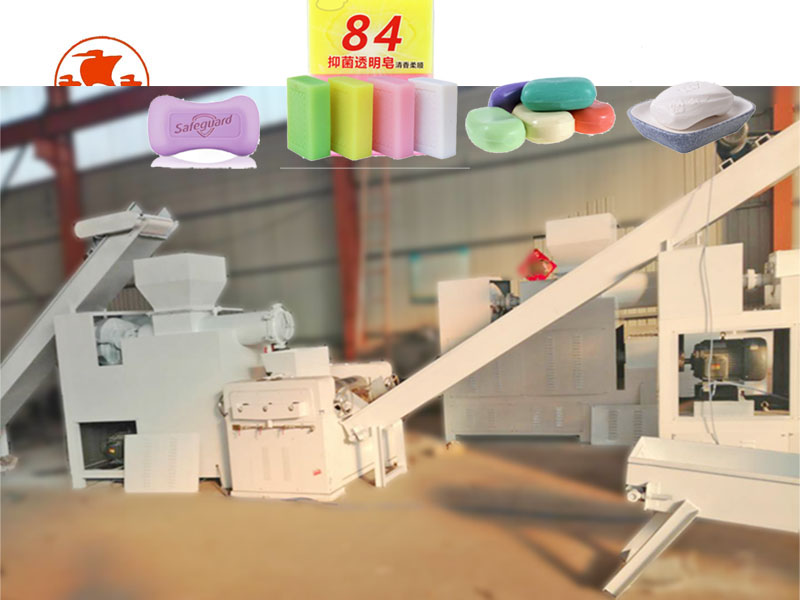 ■ Application and Features
DesignNotes of small soap production line
This production line is a soap molding production line with soap particles as raw material an output of 500-1000 kg/h. After raw material mixing, grinding, vacuum stripping, electronic rolle printing and cutting/Auto Stamping machine.high-grade soap with a fatty acid content of 35-70 can be produced. The production line adopts a double-layer vacuum ejector, which can make th soap structure compact and difficult to crack.
( Keywords: price of soap making machine , bar soap making machine , soap making machine )
Intruduction of Mini Soap Making Machine Price
This soap production line regard soap noodles as raw materials or palm oil .The production starts with mixing soap noodles or palm
oil . Then the mixed soap noodles enters in the three roller mill by conveyor belt, where soap thin sheets are made. The soap thin
sheet then converted into desired long strip soap by the plodder machine.Then the long strip soap are cut into the soap bars
required size by cutting machine(there are two kinds of cutting machine.One is mechanical.The other is automatic).Finally, the
soap bars gets packed by packing machine if needed.
Description of Mini Soap Making Machine Price
a. This system can continuously produce laundry soap, compound soap, industrial soap and others;
b. The production line is mainly consisting of oil refining, saponification, vacuum drying and extrusion;
c. Only when the crystal form of soap is tiny, the soap become fine and smooth. The vacuum drying system can make the soap to form
tiny and compact crystal texture which is mainly in the shape of β base;
d. When you produce fatty acid products( laundry soap, compound soap and industrial soap), the fatty acid content is usually 49%,
the vacuum degree of the system is about of 740 mmHg, the temperature of soap base is 85 0C, vacuum dewatering is about 4%, you
can take 53% fatty acid.
Material needed of Mini Soap Making Machine Price:
Oil or fat of plant or animal (palm oil, coconut oil, tallow oil, etc.), caustic soda (NaOH), sodium-chloride (NaCl), sodium
silicate, pigment, etc.
Production process of Mini Soap Making Machine Price:
Mix and melt oil --> Saponification --> Vacuum drying --> Soap noodle --> Grinding --> Vacuum Plodder (extruding) --> Cutting.
Main Machines involved for Mini Soap Making Machine Price
This production line mainly contains :
1. saponification equipment,
2. drying plant,
3. double sigema mixer,(Used for mixing soap noodles.)
4. refiner, Three roller mill, (Used for grinding soap noodles into thin sheets. )
5. duplex vacuum plodder(Extruder) Machine ( Used for molding the sheets into long strip soap of required shape. )
6. water chiller,
7. electronic cutter,( Used for cutting the long strip soap into soap bar that is desired size )
8. stamping machine,
9. freezer,
10.belt conveyors,
11. electric control panel etc.
Available complete set of Mini Soap Making Machine Price
1)capacity: 100—500KG/Hour
2)capacity: 600—1000KG/Hour
3)capacity: 1200—1500KG/Hour
4)capacity: 1500—2000KG/Hour
Inquiry >>
Please enter your demand such as Raw material type,Capacity, Feeding material size, Final product size. We will reply you as soon as possible.
Please simply complete the form below, we will contact you shortly.