Telephone : 0086-0371-86151367
Mobile Phone : 008618625531588
Fax : 0086-0371-86151367
E-mail :
hlmachine001@gmail.com
E-mail :
fancy001@hycfm.cn
Address : No. 285, Floor 18, Unit 1, Timing Senlin International Building, Cross Of Tianming Rd. And Dongfeng Rd., Jinshui Dist., Zhengzhou, Henan, China (Mainland)
Press Oil Processing Machine
Edible Oil Refining Machine Small Scale Palm Small Oil Refinery Machine
Capcity:

500 kg/batch 

Power:

0.75kw *2

Voltage:

220v/380v

Ports:

Ningbo / Qingdao/Shanghai

Size:

2600*1000*2300mm

Payment:

T/T,L/C,Western Union,MoneyGram, other
(※ Click this button to inquiry)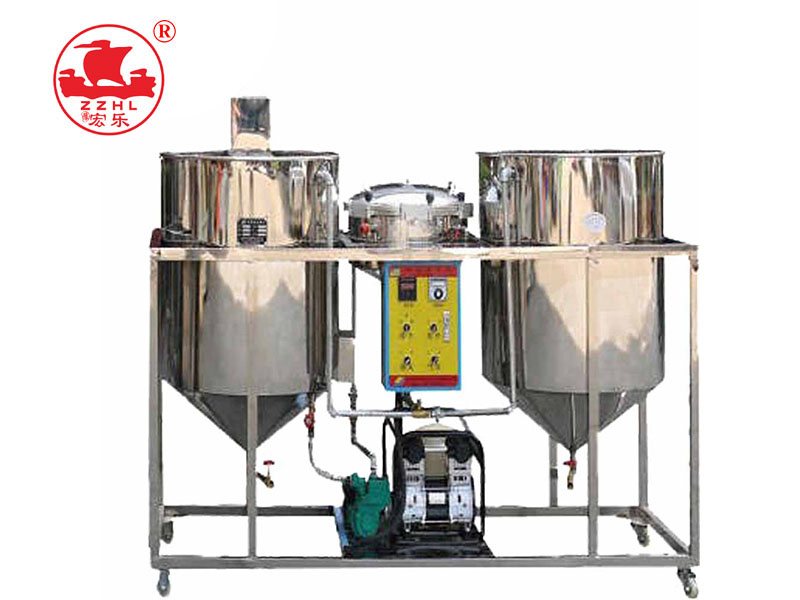 ■ Application and Features
Description
It consists of refining tank, filter tank, finished product tank, oil pump, motor and electric heating system. It can realize degumming, drying and filtering of crude oil.
In order to meet the needs of small-scale oil refineries, Hongle Machinery has successfully developed a complete set of units dedicated to oil refining in small-scale oil refineries, realizing the integrated flow-line operation of dephosphorization,degumming and filtration, thus realizing the miniaturization of large-scale oil refining and the civilianization of industrial refineries. Now, Hongle Machinery Complete sets of refinery equipment are speeding up to enter small and medium-sized oil refineries all over the world, which are well received by oil users. The refined oil products of the refined oil equipment meet the national standard of edible oil at or above the second level, and can be directly filled and sold!
Operational procedures:
Crude Oil - Degumming (Washing)- Dehydration (Heating and Drying) - Filtration - Product Oil
Treatment effect:
The oil treated by refining machine has transparent color, no precipitation for a long time, no foam in the pot, little fume,and can meet the national edible oil standard. It can be directly filled and sold, and is suitable for processing incoming materials and small-scale oil processing plants.
Characteristic:
1. Food grade stainless steel is used and polished.
2. Simple design, exquisite appearance, improve customer satisfaction.
3. The operation data are all displayed by the instrument, which is easy to operate and safe to operate. After telephone
training, the ordinary staff can work directly.
4. It can realize dephosphorization and dehydration of oil products.
Specifications of Small Edible Oil Refiner:
Capacity :150kg/batch
| | | | |
| --- | --- | --- | --- |
| Specification | HLJL-50A | HLJL-75A | HLJL-75D |
| Capacity | 150 kg/batch | 400kg/batch | 600Kg/batch |
| Power | 0.37kw | 1.48kw | 1.48kw |
| Electric heating power | 5kw | 9kw | 9kw |
| Volume | 100L | 200L | 200L |
| Diameter | 500mm | 750mm | 750mm |
| Refine Tank | 1 | 1 | 2 |
| Voltage | 220/380v | 380v | 380v |
| Weight | 165kg | 220kg | 260kg |
| Size | 1800*680*1400mm | 2200*800*1400mm | 2950*830*1520mm |
| function | Degumming and dephosphorization, dehydration, filtration | Degumming and dephosphorization, dehydration, filtration | Degumming and dephosphorization, dehydration, filtration |
Model

Parameter


YJY-L1

working volume:360L
Size: 1450*580*1540
power:8KW/380v

YJY-L2


working volume:500L
Size: 2750*850*1990mm
power:13.5KW/380v

YJY-L3


working volume:800L
Size: 3640*850*1990mm
power:24KW/380v

YJY-L4


working volume:980L
Size:4750*850*1990mm
power:27KW/380v
Inquiry >>
Please enter your demand such as Raw material type,Capacity, Feeding material size, Final product size. We will reply you as soon as possible.
Please simply complete the form below, we will contact you shortly.