Telephone : 0086-0371-86151367
Mobile Phone : 008618625531588
Fax : 0086-0371-86151367
E-mail :
hlmachine001@gmail.com
E-mail :
fancy001@hycfm.cn
Address : No. 285, Floor 18, Unit 1, Timing Senlin International Building, Cross Of Tianming Rd. And Dongfeng Rd., Jinshui Dist., Zhengzhou, Henan, China (Mainland)
10-HEAD Combination weigher
Capcity:

70 bag/min

Power:

Voltage:

Ports:

Qing Dao,Ning Bo

Size:

1400(L)x1130(W)x1120(H)mm

Payment:

T/T,Western Union L/C
(※ Click this button to inquiry)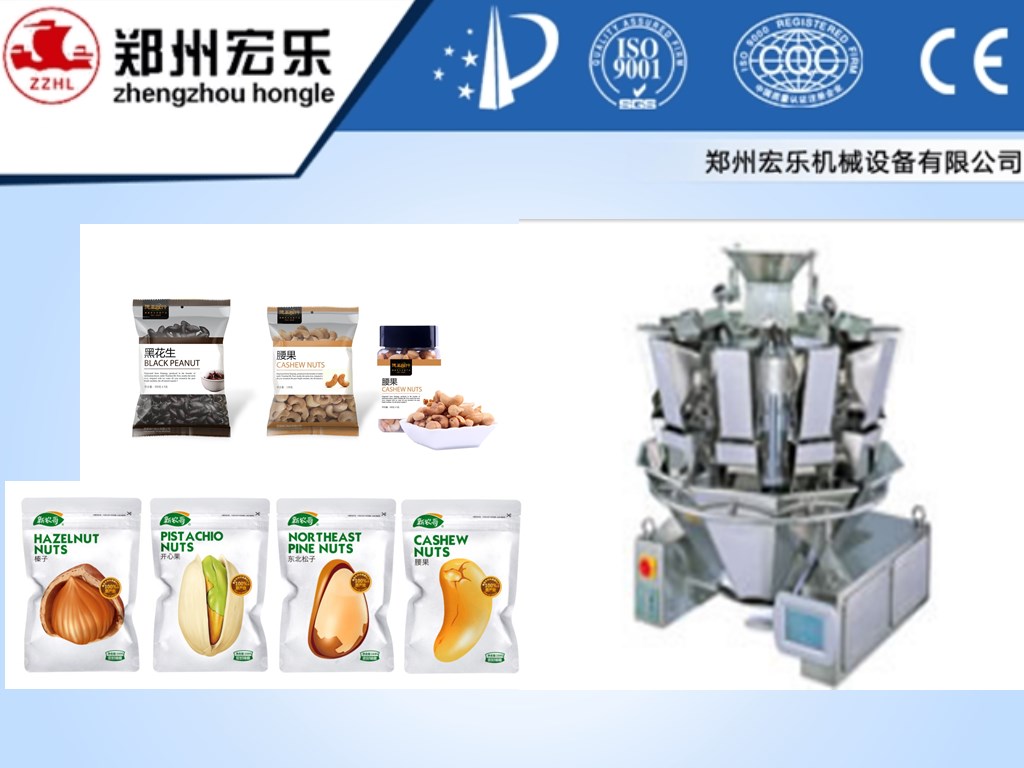 ■ Application and Features
Introduction of 10-HEAD Combination weigher
The multihead weigher is suitable for high speed weighing of granule, slice, roll or irregular shape products such as candy, seed, jelly, fries, coffee bean, peanut, puffy food, biscuit, chocolate, nut, yogurt, pet food & frozen foods, etc. Bucket Weigher is also suitable for weighing small metal and plastic parts.
Working principle of 10-HEAD Combination weigher
1. Auger Screw Filler for Powder (Coffee powder, milk powder, sugar powder, fine grain, flour, solid beverage, spice, etc.)
2. 10-HEAD Combination weigher for granule (tomato chip, candy, chocolate, biscuit, preserved fruit, melon seed, peanut, nutlet, jelly, etc.)
3. Linear Weigher for Granule (sugar, salt, coffee, sesame, condiment, seeds, rice, detergent powder, etc.)
4. Rotary Gear Pump for Liquid (sauce, ketchup, mustard, mayonnaise, cream, cosmetics products, etc.)
5. Piston Pump for Liquid (liquid, cream, shampoo, conditioner, ketchup, etc.)
Advantage of 10-HEAD Combination weigher
Load cell level sensor control material feeding;
*No products Auto pause function can avoid material dropping out during Running;
*The single linear feeder amplitude can be auto/manual adjusted will ensure the products easy-flowing with high accuracy;
* Facility to maximize or minimize the operation angle to the size of the product.
* Multilanguage control panel, Spanish, Korea, German, French and Arabic, etc.
* High accuracy and high speed modes can be select.
1. The bucket weigher can be auto-modified for more efficient weighing.
2. High precise digital weighing sensor and AD module have been developed.
3. Multi-drop and succeeding drop methods can be selected to prevent puffed material blocking the hopper.
4. Material collecting system with function of unqualified product remove, two direction discharge, counting, restore default setting.
5. Multi-language operation system can be selected basing on customer's requests.

■ Specifications
Technical parameter of 10-HEAD Combination weigher
Model

AC-6B10-2B-1X

Standard 10 bucket combination scale

Electronic scale

Measure number

10

Range of single weighing

10-1000g

Accuracy

0.1-1.5g

Average tolerance of single bag

0.2-0.7g

Weighing speed

70 bag/min

Hopper capacity

1300ml

Hopper type

Double row bucket without memory

Preliminary programs

300/370kg

dimensions

1400(L)x1130(W)x1120(H)mm
Inquiry >>
Please enter your demand such as Raw material type,Capacity, Feeding material size, Final product size. We will reply you as soon as possible.
Please simply complete the form below, we will contact you shortly.