Telephone : 0086-0371-86151367
Mobile Phone : 008618625531588
Fax : 0086-0371-86151367
E-mail :
hlmachine001@gmail.com
E-mail :
fancy001@hycfm.cn
Address : No. 285, Floor 18, Unit 1, Timing Senlin International Building, Cross Of Tianming Rd. And Dongfeng Rd., Jinshui Dist., Zhengzhou, Henan, China (Mainland)
HL-500 Milk pasteurizer
Capcity:

500L

Power:

0.75KW

Voltage:

220V/380V

Ports:

Qing Dao

Size:

1200*1200*2200mm

Payment:

T/T Western Union L/C
(※ Click this button to inquiry)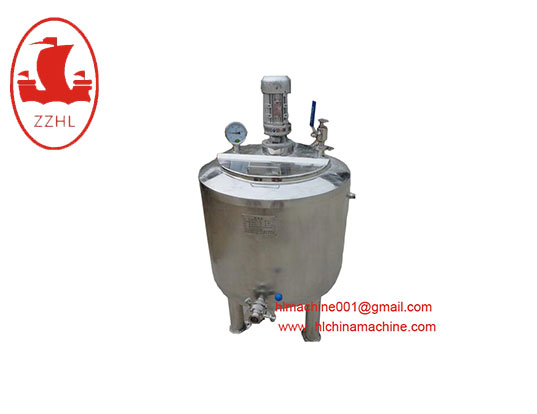 ■ Application and Features
Milk pasteurized machine main working principle is low temperature sterilization, also is not more than 100 ℃for milk sterilization pasteurization can keep the good bacteria in milk at the same time, kill the harmful bacteria such as colon bacillus.the milk temperature in the equipment stay at 85 ℃ for half an hour can retain the beneficial bacteria, kill harmful bacteria.
Product Video:www.youtube.com/watch
■ Specifications
Electric heating Pasteur sterilization machine with the feature of the high temperature resistance, corrosion resistance, strong production capacity, no need steam heating etc, and is mainly used for milk, medicine, beverage, scientific research and industry departments.
Pasturing machine consists of pot body, pot, mixer, heating jacket, supporting and transmission device, the shaft sealing equipment etc. Pot body, pot, mixer, and shaft seal, electric heating device etc all made of by 1 Cr18Ni9 (USU304) stainless steel.
The pot body connects with pot cover; at the bottom of pot body have feeding hole, with agitator in the machine.
The heating jackets have feeding, oil extraction, temperature measurement, emptying valve, electric heat stick etc.
Inquiry >>
Please enter your demand such as Raw material type,Capacity, Feeding material size, Final product size. We will reply you as soon as possible.
Please simply complete the form below, we will contact you shortly.