Telephone : 0086-0371-86151367
Mobile Phone : 008618625531588
Fax : 0086-0371-86151367
E-mail :
hlmachine001@gmail.com
E-mail :
fancy001@hycfm.cn
Address : No. 285, Floor 18, Unit 1, Timing Senlin International Building, Cross Of Tianming Rd. And Dongfeng Rd., Jinshui Dist., Zhengzhou, Henan, China (Mainland)
Mayonaise Making Machine Vacuum Mayonaise Mixer Machine Emulsifying Emulsifier Homogenizer Production Line
Capcity:

50 to 2000 (L)

Power:

depend on capacity

Voltage:

220v/380v

Ports:

Ningbo / Qingdao/Shanghai

Size:

depend on capacity

Payment:

T/T,L/C,Western Union,MoneyGram, other
(※ Click this button to inquiry)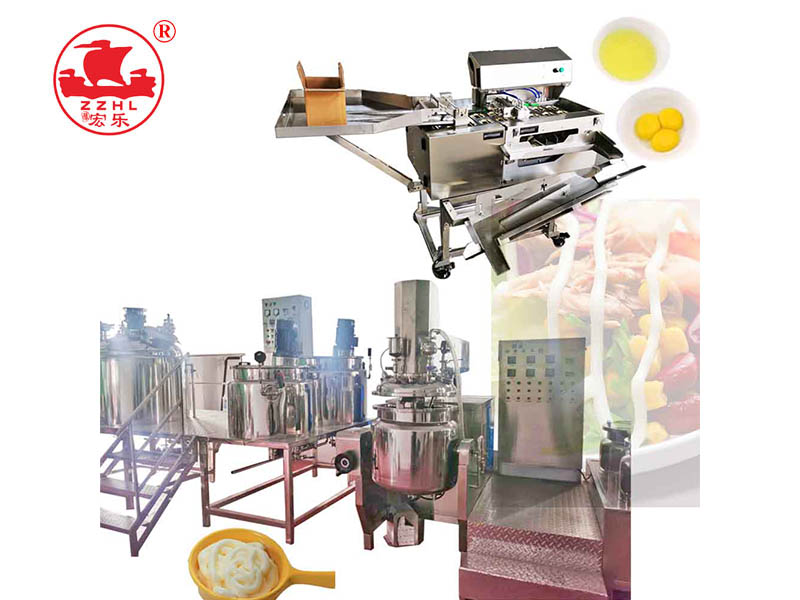 ■ Application and Features
Featuresof Mayonnaise making production line
Machine: Emulsifying homogenizer
Raw Material: yolk powder/salad oil /vinegar/water
1. The material is preheated and stirred in the water and oil pot, and then can be directly sucked into the homogenization pot
under vacuum through the conveying pipeline.
2. In the homogenizing pot, the material passes through the PTFE scraper (the scraper always caters to the shape of the pot and
sweeps away the sticky materials on the wall) in the homogenizing pot to continuously produce new interfaces, and then passes
through the frame agitator to cut, Compress, fold, stir, mix and flow down to the homogenizer below the pot, and then through
the strong shearing, impact, turbulence and other processes generated between the high-speed rotating rotor and the stator,
the material is sheared The slit is cut and quickly broken into particles of 200nm-2μm. Material granulation, emulsification,
mixing, homogenization, dispersion, etc. can be completed in a short time. Since the homogenizer is in a vacuum state, the
bubbles generated during the mixing process of the material are drawn away in time. After the homogenization is finished,
raise the homogenization pot lid, and rotate the dumping hand wheel to make the materials in the pot discharge into the
container outside the pot.
3. The heating temperature of the homogenizing pot is set and adjusted by the temperature controller on the control panel; the
homogenizing stirring and the paddle stirring can be used separately; they can also be used at the same time; the length of
the homogenizing stirring time is determined by the user according to the material properties grasp.
Equipment Application Of mayonnaise making line:
Emulsification is the action of a liquid uniformly dispersed in another liquid that is immiscible with tiny droplets.
Emulsification is a liquid-liquid interface phenomenon. Two immiscible liquids, such as oil and water, are divided into two layers in a container. In the emulsifier, the oil with low density is on the upper layer and the water with high density is on the lower layer. If an appropriate surfactant is added under strong stirring, the oil is dispersed in the water to form an emulsion. This process is called emulsification.
Inquiry >>
Please enter your demand such as Raw material type,Capacity, Feeding material size, Final product size. We will reply you as soon as possible.
Please simply complete the form below, we will contact you shortly.