Telephone : 0086-0371-86151367
Mobile Phone : 008618625531588
Fax : 0086-0371-86151367
E-mail :
hlmachine001@gmail.com
E-mail :
fancy001@hycfm.cn
Address : No. 285, Floor 18, Unit 1, Timing Senlin International Building, Cross Of Tianming Rd. And Dongfeng Rd., Jinshui Dist., Zhengzhou, Henan, China (Mainland)
Automatic Cup Cake Making Machine Production Line Swiss Roll Cake Production Machine
Capcity:

500KG/hour

Power:

8KW

Voltage:

220v/380v

Ports:

Ningbo / Qingdao

Size:

12000 *2500 * 1750mm

Payment:

T/T,L/C,Western Union,MoneyGram, other
(※ Click this button to inquiry)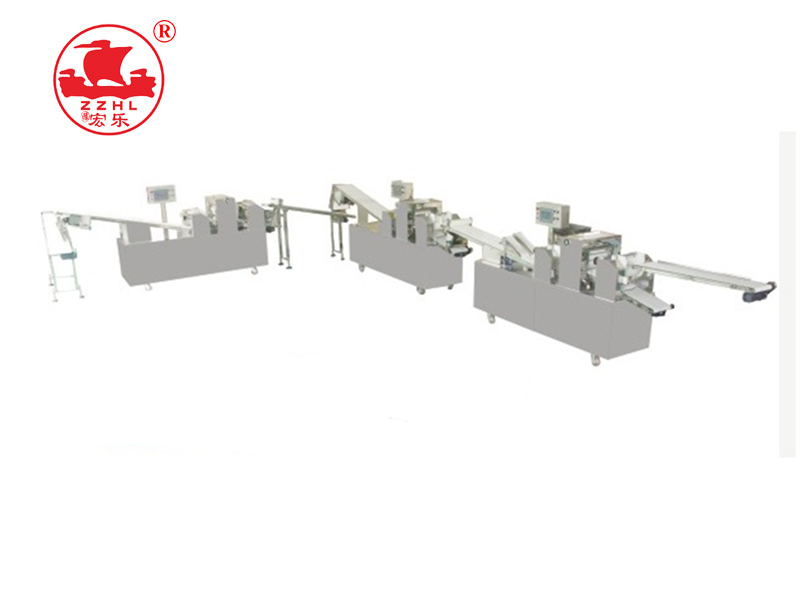 ■ Application and Features
Composition:Automatic wrap line. Shortbread line.
The dough is pressed into a suitable thickness and width by a three-stage progressive thinning method, and the pastry is added to the dough by a separate filling machine, and the dough is rolled up and folded by a spade reel, and finally three-stage progressive thinning is adopted again. The method is to press the dough into a suitable thickness and width, and after the swing folding control layer is completed, it is formed by a pastry machine, and then conveyed to a tray machine or custom-made directly to the frying cake production line to realize automatic production of the cake. . The production line has a fast speed and greatly saves labor intensity. A package of crispy lines can simultaneously satisfy the production of three wafers at the same time, without damaging the dough, completely handmade, and maintaining the original flavor.
Main technical parameters
| | |
| --- | --- |
| Model | CSM - 918 |
| Capacity | 500KG/hour |
| Power | 8KW |
| Product weight | 10-120g |
| Weight | 2800kg |
| Size : | 12000 *2500 *1750mm |
Nine knives, pinch the flower machine
1, pinch flower knife for nine, seamless cooperation, there is a round knife and flower knife (bun knife) can be selected.
2, pinch flowers closing good, not easy to burst stuffing, uniform pattern, the product is close to manual package system.
3, the tool service life is long, not easy to damage and make the product surface smoother.
4, modular design, when used, only need to be the pinch machine and the host of the power connection, can be controlled by the host.
Main technical parameters
Production capacity 1000-8000 PCs/h
Power 1.8KW
Machine Weight 230KG
Six knives, pinching the flower machine.
1. Pinch The flower knife for six, angle fit, do not need to disassemble and clean.
2. Suitable for products with greater surface strength, such as Hamburg.
3. Rugged tool, simple structure.
4. High-speed production can be achieved at speeds of up to 140 per minute.
Inquiry >>
Please enter your demand such as Raw material type,Capacity, Feeding material size, Final product size. We will reply you as soon as possible.
Please simply complete the form below, we will contact you shortly.