Telephone : 0086-0371-86151367
Mobile Phone : 008618625531588
Fax : 0086-0371-86151367
E-mail :
hlmachine001@gmail.com
E-mail :
fancy001@hycfm.cn
Address : No. 285, Floor 18, Unit 1, Timing Senlin International Building, Cross Of Tianming Rd. And Dongfeng Rd., Jinshui Dist., Zhengzhou, Henan, China (Mainland)
Vegetable Fruit Processing Machine
Cicada Pupa Classifier Cicada Pupa Size Grading Machine
Capcity:

According to the diameter of fruits and vegetables divided into 4-7 grades

Power:

1.5KW

Voltage:

220v/380v

Ports:

Qingdao/Ningbo

Size:

3.1m*0.8m*0.9m

Payment:

T/T,L/C,Western Union,MoneyGram, other
(※ Click this button to inquiry)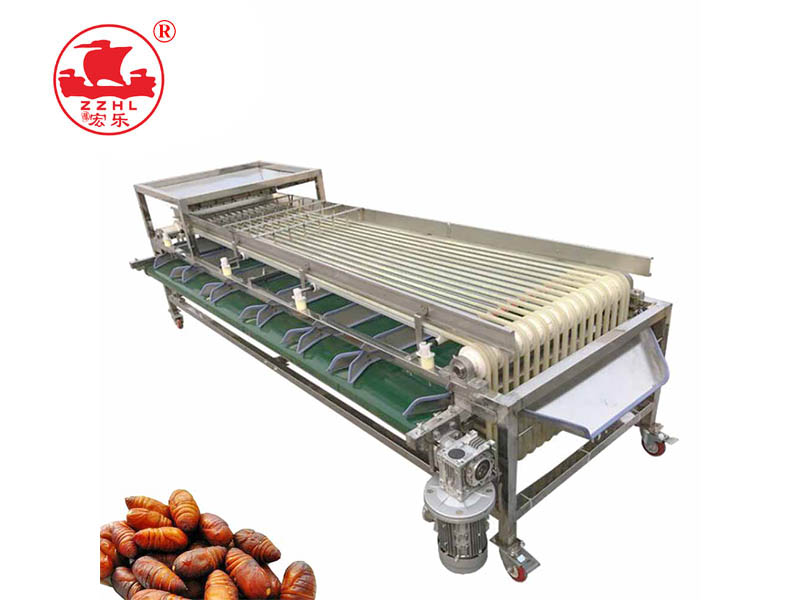 ■ Application and Features
The improved orbital sorting machine emphasizes the coordination of the whole machine and the scientific matching of the motor wheel sets on the basis of retaining the advantages of high-power low-speed motor and orbital operation.
The conveyor belt of the track jujube machine is made of imported silicone rubber material, which has strong toughness and wear resistance, overcomes the disadvantages of the belt being easy to crack, easy to break and easy to aging, and has a service life of 5 times longer than the ordinary silicone belt;
The special aluminum alloy V-shaped track groove is strong and not easy to be deformed; the V-shaped groove is separated by a rod sleeve, which can adjust the spacing of the conveyor belt very conveniently, and achieve the multi-purpose effect of the machine (Saints, Garlic, Xinjiang) Jujube, ash jujube, golden silk jujube, hawthorn, sea buckthorn, kumquat, sand sugar orange, lychee, longan and other small fruit and vegetable fruits), the length of the fuselage increased to three meters, the fruit and vegetable can be divided into 4-7 according to the diameter of the fruit and vegetable Grade, the selection is more uniform, and the grade is finer.
For the screening of fruit in jujube and winter jujube, it is not easy to damage the peel, and the screening effect is very uniform.
■ Specifications
| | | | | | | |
| --- | --- | --- | --- | --- | --- | --- |
| Model | HL-FJ2-9 | HL-FJ2-9 | HL-FJ2-13 | HL-FJ3-13 | HL-FJ2-17 | HL-FJ3-17 |
| Size sorting Machine size | 2.1*0.6*0.8m | 3.1*0.6*0.8m | 2.1m*0.8m*0.9m | 3.1m*0.8m*0.9m | 2.2*1.2*0.8m | 3.2*1.2*0.8m |
| Conveyor size | | | | | 1.5*0.6*1.3m | 1.5*0.6*1.3m |
| Voltage | 220v 1.5kw | 220v 1.5kw | 220v 1.5kw | 220v1.5kw | 380v 2.25kw | 380v 2.25kw |
Inquiry >>
Please enter your demand such as Raw material type,Capacity, Feeding material size, Final product size. We will reply you as soon as possible.
Please simply complete the form below, we will contact you shortly.