Telephone : 0086-0371-86151367
Mobile Phone : 008618625531588
Fax : 0086-0371-86151367
E-mail :
hlmachine001@gmail.com
E-mail :
fancy001@hycfm.cn
Address : No. 285, Floor 18, Unit 1, Timing Senlin International Building, Cross Of Tianming Rd. And Dongfeng Rd., Jinshui Dist., Zhengzhou, Henan, China (Mainland)
Vegetable Fruit Processing Machine
Pomegranate seeds washing peeling machine processing machine
Capcity:

3000kg / hour

Power:

3kW

Voltage:

220v/380v

Ports:

Qingdao/Ningbo

Size:

2100×950×1800mm

Payment:

T/T,L/C,Western Union,MoneyGram, other
(※ Click this button to inquiry)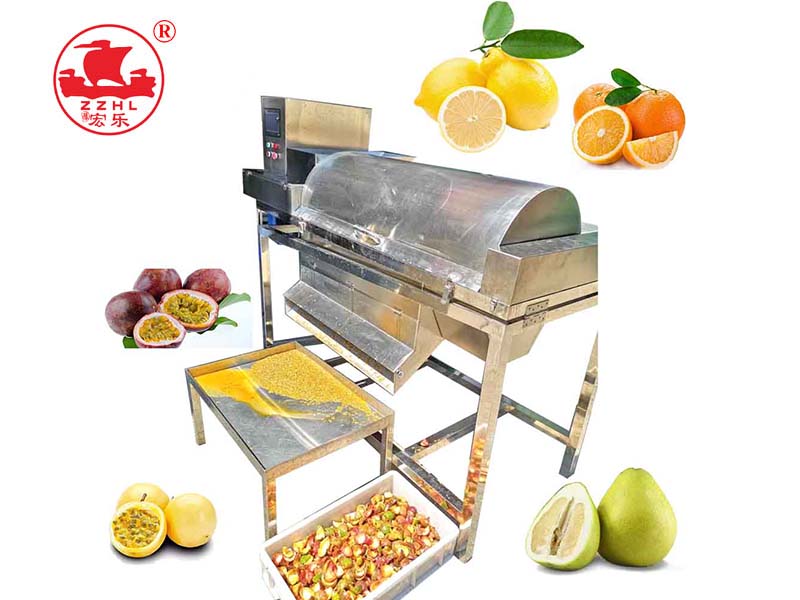 ■ Application and Features
According to the characteristics of pomegranate hierarchical structure (skin-diaphragm-fruit grains), a profiling peeling and separating machine and a pomegranate seed meat separating machine are developed, which can replace the squeezer to separate the skin, film and grains without damage. The processing capacity is 1t/h, the goodness rate of fruit particles is ≥90%, the recovery rate of fruit particles is ≥95%, and the fruit particles contain impurities ≤6%. It provides key equipment for non-press processing of pomegranate. It has been installed in China, Taiwan, and the United States. Factory application.
This machine can "pull out" the pomegranate, grapefruit, orange, lemon, tangerine, and orange fruit pieces one by one, and remove the capsule, septum, fruit seeds, etc. purely mechanically. It is a key equipment for citrus non-squeezing and debittering processing of fruit particles, juice, sauce, wine, vinegar, cakes, and ice. Because squeezing-debittering is like shredding fish balls to make fish soup, it is destined to be difficult to debitter.
This machine is manufactured according to EU standards, with program control plus remote control, stainless steel for the main material and housing frame, and Japanese Omron or German Siemens for electronic components and PLC. The beauty and hygiene are in line with modern food standards.
Take pomegranate as an example. During operation, click on the touch screen, set the parameters, and enter the pomegranate petals into the feed inlet. The machine will automatically separate pomegranate grains, capsules, and fruit seeds, and there will be a steady stream of intact pomegranate grains. come out.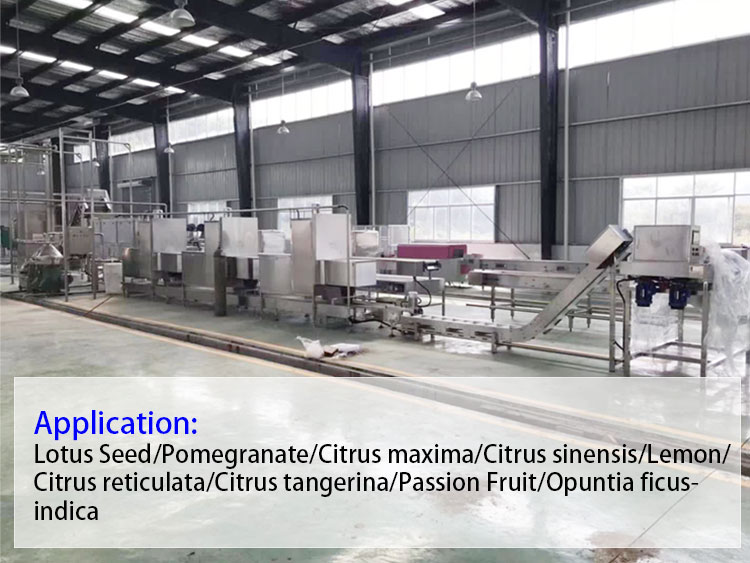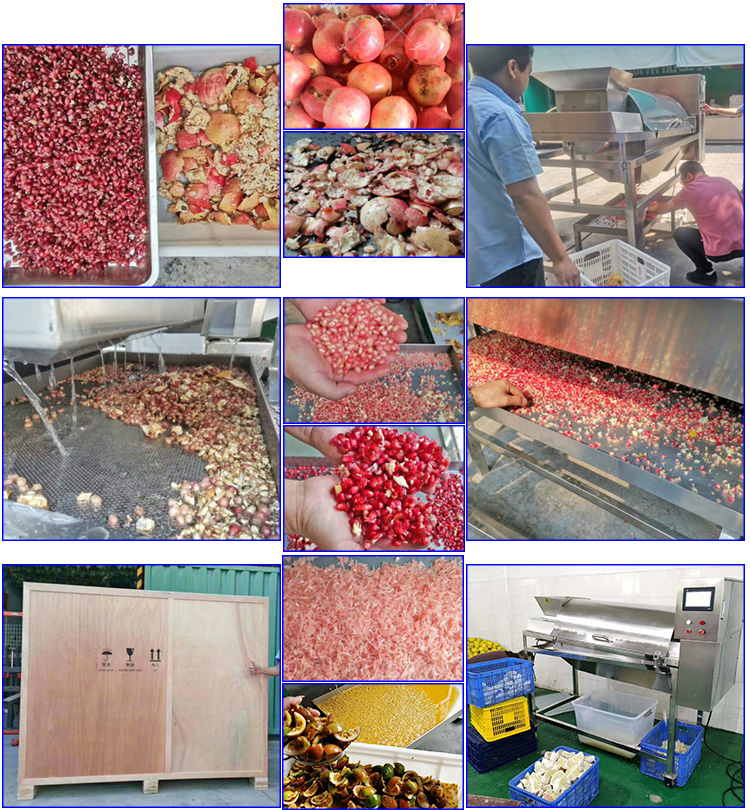 ■ Specifications
Parameter:
Output: 3t/h
Compatible fruit species; lotus seed / pomegranate / grapefruit / orange / lemon / orange / tangerine / passion fruit / cactus fruit
Power: 3kW
Voltage: 220V
Weight: 380Kg
Dimensions: 2100×950×1800
Inquiry >>
Please enter your demand such as Raw material type,Capacity, Feeding material size, Final product size. We will reply you as soon as possible.
Please simply complete the form below, we will contact you shortly.